Happy Easter to all my wonderful readers! I hope you have a great day tomorrow. I spent some time this morning going though my meal plan for what I thought would be Easter dinner tomorrow. We were planning on a late dinner since Mr. Bacon found out very short notice that he will be working tomorrow. I have to say I wasn't looking forward to it, starting to eat dinner at 6:30 with 4 tired crabby kids didn't sound like much fun, or that it would go over well. But I wasn't compromising on our family dinner!
I was talking about this with Mr. Bacon today after lunch, when he came up with the suggestion for us to have our family Easter dinner tonight. That way we could eat as a family, and not have it be super late. Yes, in the Bacon house 6:30 dinner is super late! Bed time for the kids is 7pm! (ahhh...a quiet house at last!) I swallowed hard and said 'Sure, we can do a big dinner tonight'. A quick glance at the clock, Sigh... 1pm already. Where to even start, I was planning on having all day tomorrow to bake and get ready. So what is on the menu anyway? OH before the that I should mention, there will be a lot of pictures to this post, I guess I got camera happy again.
Ham
Cheesy hash brown potatoes
Green bean casserole
Homemade biscuits
and some kind of dessert
I was planning on making angel food cake, something I've been craving for a while now, but it was too late in the day already to start that if I needed to be baking a ham. I knew making homemade biscuits needed time to rise- twice! So I got to work. I used my recipe I wrote about
here
. Once I got the dough ready for the first rise, I decided I needed something fancy for the table. Yea like there wasn't enough on my to-do list already. But I did have an hour to wait around for the dough to rise.... So I decided to make these cute bunnies!
Super cute and one for each of us. Ok I shared mine with Bacon bit. I ate the candies, he tried to eat the bunny. Oh the life of a 7 month old! So where to start? First you need:
Washcloth
rubber band
ribbon- optional
Start in the corner with the tag and roll up the washcloth.
Fold the roll in half.
And then in half again.
Secure a rubber band around the top part to create a bunny face. You can then cover this with ribbon, or skip the rubber band and just tie with ribbon.
Tada! you have a bunny!
I decided to wedge one of these tiny Tupperware cups I had in the back side as a treat holder. You can also place on of those wonderfully decorated eggs the kids worked hard on behind the ears.
Help they're taking over the place!

Ok so now that those bunnies are done, time for the biscuits. I decided to do clover biscuits- nothing fancy, just decided to add 3 dough balls to each cupcake tin. I let them rise on the counter. Now before I get started on that ham, I've decided to go completely crazy! I needed something for dessert. Looking though the pantry didn't find anything quick, I peeked in the freezer and found those chocolate chip cookies I hid in there! Perfect!I rolled them into balls since the dough was frozen. I quick baked them up in between letting the biscuits rise and preparing the ham.
Now on to the fancy ham. We bought just a basic ham, one that was on sale. But I'm never happy with the taste of it as is, so I add the Ma Bacon touch to it! Here's what you need.
Ham (mines 9lbs!)
1/2 cup brown sugar
1 can pineapple chunks
Whole cloves
1 cup (8oz) cola soda

First, take your ham and place it in a large roasting pan. Dump cola over top. Rub 3/4 of the brown sugar required over the ham. Don't forget the front where it was cut! That's the best part in my book.
Now take out your whole cloves and count out 20, this is important- well the number of how many you use isn't that important, (I use 20) but just so you remember how many to use. Next take tooth picks and stab the pineapple chunks and stick them around the back ham. You should leave your guests wondering if you're serving ham or porcupine! Then slowly pour the pineapple juice over the ham, try not to remove the brown sugar. Sprinkle the remaining brown sugar over the ham. and dump the rest of the pineapple juice and chunks in the pan. Take a large piece of tinfoil and make a tent over the top of your ham. It's ok if there are some holes in it, it lets the steam out. Place it in the oven at 350* for 15 minutes per pound. Or what ever your ham says. Go ahead, ask it.
So bunnies made, check, ham in the oven, check. While the ham is cooking if your biscuits are done rising.. biscuits, what biscuits you ask? Remember those we left on the counter to rise, next to the baked cookies? Oh those biscuits. It's time to pop them in the oven too and bake them. Ten minutes right along with the ham should do it. Once golden brown, take them out to cool on a wire rack, then pop them in a cloth lined bowl or basket and they're ready for dinner.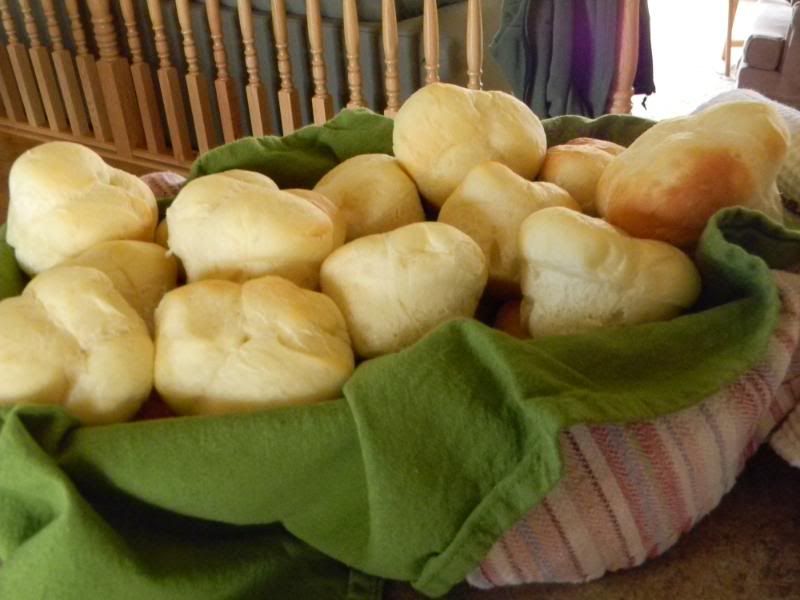 Now what to do with those cookies? I really had no plan on dessert for dinner until I saw the cookie dough I froze a few days ago in the freezer. Perhaps it was because they were sitting next to the ice cream we opened yesterday, but I figured what's better than homemade ice cream sandwiches! Take two cookies about the same size. Place one medium size scoop of softened ice cream on top. Then place the other cookie on top and squish together. I decided to roll mine in Easter sprinkles just for the holiday.
And while I was working on those cookies, the kids colored on and decorated the eggs. Yes, they are not dyed eggs. The kids each year want to make them, but I'm the only one that eats them here so I try to not make that many. I decided this year they will just color on them instead of messing with the dye mess! You know what, they had just as much fun this way too!
Once you have the cookies done make sure to place them on a pan in the freezer or you'll have a melted mess to clean up and a ruined dessert. Now if I was making these for just treats, I would wrap them in plastic wrap and place them in an air tight container in the freezer for another day.
After I had these in the freezer it was time to make up my side dishes. I made cheesy hash browns to go with from the recipe I posted
here
(just omit the ham, this will be a great recipe to use up some of that ham later on too!) And Campbell's green bean casserole using their recipe from
here
. Only we doubled it since it's Mr. Bacon's favorite.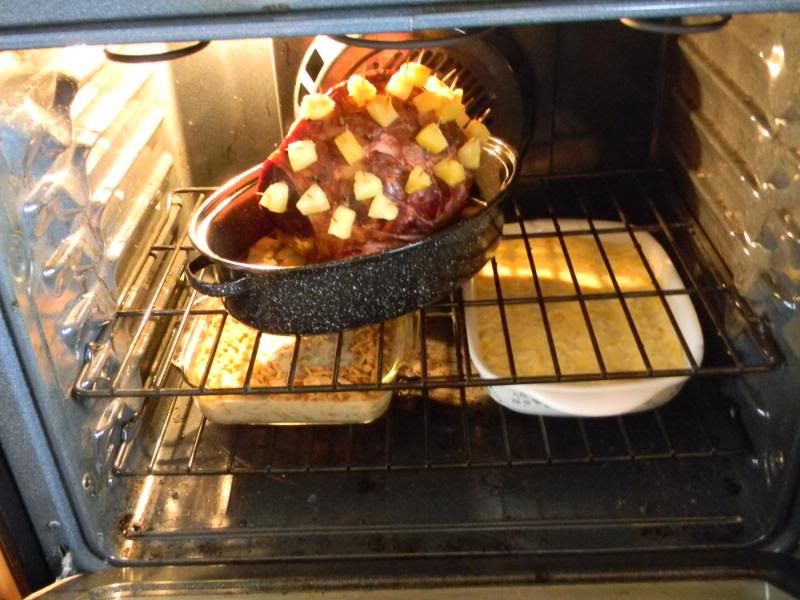 Here they are all happy in the oven together! Once the ham has finished baking, it's ready to carve. But first make sure you take out the pineapple and place it in a bowl to serve with dinner. Also make sure you take out the cloves, they are not meant to be eaten. This is why you counted out just how many you had in there, make sure you remember how many to remove!

WHEW! That was a lot of work, I just prepared a whole holiday dinner in FOUR hours! The best part, tomorrow I can dig into the left overs too! But for now it's dinner time!

From the Bacon house, We hope you all have a very blessed and Happy Easter!